---
CLICK HERE FOR ALL CIGAR BRANDS BY THE BOX
White Lightning Crooks
Rum-flavored, extra mild cigars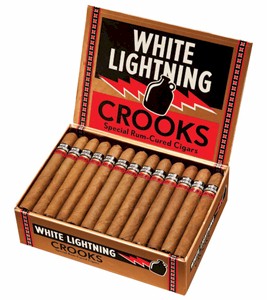 Looking for Wolf Bros Crooks replacements? Give White Lightning a try today!
Rum-Cured, Tasty & Affordable!
Two small U.S. cigar factories closed, mostly because the exorbitant federal excise tax on cigars simply killed their business. Each of these factories made their own version of "Rum Crooks". White Lightning Crooks may be the subsititute you are looking for. White Lightning cigars have a flavorful blend of Nicaraguan and Honduran fillers, mild Nuway binder and a natural Indonesian wrapper. Then comes the key to making these cigars great – a generous portion of special rum flavoring to cure the tobacco, which gives them a delectable taste you're going to love! The rum marries exceptionally well with premium tobaccos to deliver flavor like no other brand can. Available in your choice of regular or, if you prefer even more flavor, try the sweet version to give you just a burst of flavor as soon as you light one.
Note: Before Ordering White Lightning cigars please email us to check on stock situation. Sorry for this inconvenience. Thank you.
White Lightning Crooks Rum 5.6" x 43 ring. Pack of 5 Offered at $9.50 - Add To Cart

White Lightning Crooks Rum 5.6" x 43 ring. Box of 50 cigars Offered at $89 - Add To Cart
White Lightning Crooks Rum Sweet 5.6" x 43 ring. Pack of 5 Offered at $9.50 - Add To Cart

White Lightning Crooks Rum Sweet 5.6" x 43 ring. Box of 50 cigars Offered at $89 - Add To Cart
---
White Owl Flavored Cigars
White Owl Blunts X-tra
Tubed Cigars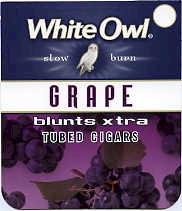 The White Owl Blunts xtra cigars are made from a blend of specially selected, fine tobaccos from five different countries, giving you extra mildness and fine taste. Each cigar is sealed in a plastic tube for protection and freshness. Size is 5.5" x 42 ring. Pack of 5 Offered at $6.95


White Owl Blunts xtra Grape pack of 5 - Add To Cart
White Owl Blunts xtra Peach pack of 5 - Add To Cart
White Owl Blunts xtra Strawberry pack of 5 - Add To Cart
White Owl Blunts xtra Vanilla pack of 5- Add To Cart