LEGAL NOTES: We ship only to USA, APO, and FPO addresses.
Note: Due to legislation; this item is restricted from being shipped to certain areas. Flavored cigars (excluding menthol and mint) may not ship to NY metro zip codes or Providence, RI. We do not ship tobacco products to the state of Montana.
- Due to Maine state law restricting couriers from delivering tobacco products, we are unable to ship to Maine.
- Remittance of any taxes on orders shipped outside the state of Pennsylvania is the responsibility of the purchaser.
---
Pacific Twyst Cigars
A spectacular flavored cigar smoking experience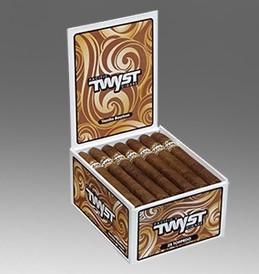 Pacific Twyst Cigars - an exciting new approach to the flavored cigar. Each Pacific Twyst Cigar infuses a popular base flavor, balanced with a complementary essence. The resulting flavor combinations are bright, distinct, and exceptional. Pacific Twyst is a spectacular flavored cigar smoking experience that appeals to both men and women alike.
Pacific Twyst Vanilla Bourbon Torpedo 5" x 38 ring. Offered at $3.75 - Add To Cart

Pacific Twyst Vanilla Bourbon Torpedo 5" x 38 ring. Box of 25 cigars Offered at $89 - Add To Cart