LEGAL NOTES: We ship only to USA, APO, and FPO addresses.
Note: Due to legislation; this item is restricted from being shipped to certain areas. Flavored cigars (excluding menthol and mint) may not ship to NY metro zip codes or Providence, RI. We do not ship tobacco products to the state of Montana.
- Due to Maine state law restricting couriers from delivering tobacco products, we are unable to ship to Maine.
- Remittance of any taxes on orders shipped outside the state of Pennsylvania is the responsibility of the purchaser.
---


A C I D Cigars
(Arthur Chester Industrial Design)
Many cigar lovers have traveled Central America to visit their favorite cigar factories, returning with stories of how cigars were rolled or pressed or even

fermented. But travel three hours deep into the third world of Nicaragua and ask how to get to the factory that produces ACID Cigars, and you might be disappointed. " Si no es empleado - no pase". That means "If you're not an employee, don't come in".
ACID Cigars are the best-kept secret in Nicaragua. Only a handful of Westerners have been permitted to enter the small, temple like factory where ACID Cigars are created. Once inside, a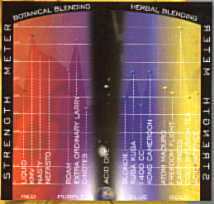 half dozen highly trained tobacco blenders scurry about, checking and rechecking tobacco blends and raw material specifications. Over two hundred different herbs and oils line the blending wall leading from the cuarto aromatico (aroma room) to the rolling area, which is mysteriously perched on a large outside deck.
ACID Cigars reveals a new form to cigar manufacturing, blending over 140 botanicals, Asian oils and herbs together with the valued understandings of Cuban Cigar rolling. ACID Cigars are all natural and hand-made in Nicaragua.

Acid Kuba Kuba is the most aromatic blend that draws easily with an even burn, smooth and tasty. Very pleasant aroma with a Sumatra wrapper that leaves a sweet taste on your lips. The Kuba Kuba is the best-selling cigar in the Acid Blue series. Size is 5" x 54 Ring. Offered at $7.50
Acid Kuba Kuba - Add To Cart
Acid Blondie - Don't let the size (4" x 38 Ring) of this Connecticut Shade wrapped powerhouse fool you. With a sweet beginning and knockout finish, it is a 4" half-hour of smoking pleasure that leaves you smiling and coming back for more. Offered at $4.60

Acid Blondie - Add To Cart
Acid Cold Infusion Tea taste is peach cobbler and the aroma of fresh cut pine on a crisp day. A refreshing afternoon cigar (especially when you take the afternoon off). Connecticut Shade wrapper. Size is 6 1/2" x 44 Ring. Offered at $6.95

Acid Cold Infusion Tea - Add To Cart
Acid One has one of the richest Cameroon wrapper available and its tobaccos are cured in red wines from Chile, Italy, France, California as well as a Sangria indigenous to Nicaragua. This cigar is terrific! Size is 5" x 54 ring with a tapered pigtail head and uncut foot. Offered at $8.95
Acid One - Add To Cart

Acid Liquid is a Connecticut Shade wrapped robusto with a very rich taste. This mild to medium bodied aromatic smoke offers hints of cashew nut flavor. Size is 5" x 50 ring with a pigtail head and uncut foot. Offered at $7.35
Acid Liquid - Add To Cart
(Click on picture to enlarge: l. to r.= Liquid, Cold Infusion, Acid One)
Acid Nasty is a little maduro pyramid that cigar smokers have compared to
semi-sweet bakers chocolate in color. This fine cigar has a floral and cocoa bouquet. The maduro wrapper has a pigtail head and an uncut foot. Recommendation; toast off the uncut foot before drawing on this smoke. The scent of crushed roses will surround you. Size is 4" x 52 ring (pyramid). Offered at $5.95

Acid Nasty - Add To Cart
Acid C-Note is the a cigarillo created to raise a lot of eyebrows in a mere 20 minutes. The David amongst the Goliaths. Rich and medium bodied. Size is 5"x 20 ring. Banded in groups of 5. The wrapper is Sumatra. Offered at $8.95/5-pack.
Acid C-Note - Add To Cart
Extra Ordinary Larry is impressive in both size and construction. A must have for the devout smoker. Initial rose-like qualities followed by a second layer of sweet spice. Larry is very well balanced and multi-dimensional. The Maduro wrapper has a Pigtail head and and uncut foot. Size is 6" x 60 ring. Offered at $11.50


Extra Ordinary Larry - Add To Cart

Acid 1400cc is a super-charged robusto with all of its aromatic qualities sealed under glass. One of Acid's most mild cigars with floral and herbal qualities. Connecticut Shade wrapper. Size is 5" x 50 ring. Offered at $8.50.
Acid 1400cc - Add To Cart
---
CLICK HERE FOR ALL CIGAR BRANDS BY THE BOX
---
Alamo Sweet

If you are a Swisher Sweet fan, why not give Alamo Sweet brand a try! Made

with Homogenized wrapper and binder and a select blend of good quality Nicaraguan and Connecticut fillers, these cigars have great tobacco taste. An old-time sweetening formula on the tobacco gives them a delicious flavor. Your choice of light natural or dark maduro wrapper. Size is 4.75" x 46 ring.
Note: Before Ordering Alamo Sweet cigars please email us to check on stock situation. Sorry for this inconvenience. Thank you.
Alamo Sweet Maduro 5-Pack. Offered at $6.95 - Add To Cart
Alamo Sweet Maduro Box of 50. Offered at $59 - Add To Cart
Alamo Sweet Natural 5-Pack. Offered at $6.95 - Add To Cart
Alamo Sweet Natural Box of 50. Offered at $59 - Add To Cart
---
---
Alma Sweets

This naturally sweetened hand rolled cigar is smooth on the draw and sweet on the palate. With its Indonesian Sumatra wrapper and Cuban seed long filler, the Alma Sweets offers a new discovery for lovers of sweet cigars. Alma Sweets are flavored with the sweet taste of honey. You won't be disappointed! Made in Dominican Republic. Individually sealed in cellophane to preserve freshness.

Alma Sweets Petit Corona - (4.2" x 32 Ring) Offered at $2.25Add To Cart -
Alma Sweets Corona - (5.5" x 42 Ring) Offered at $3.65 - Add To Cart
CLICK HERE FOR ALL CIGAR BRANDS BY THE BOX