LEGAL NOTES: We ship only to USA, APO, and FPO addresses.
Note: Due to legislation; this item is restricted from being shipped to certain areas. Flavored cigars (excluding menthol and mint) may not ship to NY metro zip codes or Providence, RI. We do not ship tobacco products to the state of Montana.
- Due to Maine state law restricting couriers from delivering tobacco products, we are unable to ship to Maine.
- Remittance of any taxes on orders shipped outside the state of Pennsylvania is the responsibility of the purchaser.
---
CAO Flavored Cigars


C.A.O. cigars are hand made in the Dominican Republic using only the finest of super premium tobaccos, along with the highest quality natural extract found in the world. The corona size is 5.25" x 42 ring. Wrapped in a cedar sleeve and Sealed in Cellophane. Offered at $4.60.
The C.A.O. Bella Vanilla uses only the highest quality vanilla beans found in Madagascar, recognized as the finest source for vanilla in the world. The complex flavors of these delicate,
exquisite vanilla beans are imbued into a blend of rich Cuban seed tobaccos. The result is the most sophisticated and complex cigar of its kind... a subtle, well-balanced cigar that yields a rich and layered complexity of flavor with an intoxicating aroma.
C.A.O. Bella Vanilla - Add To Cart
The C.A.O. Gold Honey uses the highest quality orange blossom honey in the world. The honey is derived from single floral honey that's exclusively from the best orange groves in Florida. The buds produce a sweet nectar secreted only in Spring. C.A.O. compliments this wonderful honey with the finest tobaccos, which results in a delicate blend that has a bright, faintly citrus flavor.
C.A.O. Gold Honey - Add To Cart
C.A.O. Moontrance is an intricate and unique blend of 100% all natural exotic fruit and bourbon vanilla extracts. Bourbon vanilla, a type of vanilla bean renowned for its caramel-like sweetness, is married with ripe Georgia peach nectar and then mixed with other organic fruits. A splash of white honey from Hawaii is added for tropical essence. This well-rounded blend is complimented with an exquisite blend of mild and rich tobaccos featuring C.A.O.'s Grade One Cameroon wrapper.
C.A.O. Moontrance - Add To Cart
C.A.O. Eileen's Dream is a combination of Irish Cream and white chocolate truffles. Superior Irish Whiskey, frothed cream, and coconut milk composes the Irish Cream. The delicacy of white chocolate truffles is a subtle mixture of hazelnut paste, white chocolate, ground almonds, cocoa, and vanilla extracts. This avalanche of flavors is infused into a cigar with a Grade One Cameroon wrapper and mild Dominican filler to complete this five-star reverie. "Irish Eyes are Smiling"
C.A.O. Eileen's Dream - Add To Cart
C.A.O. EarthNectar pays homage to the earth and the rich area of Italy's famed Tuscany region. An all-natural mixture of toasted almonds, cocoa, honey, and raisins are combined with the finest infused chianti. This blend is complimented by a Cameroon wrapped cigar and Cuban seed Dominican filler to achieve a mild, satisfying smoke.
C.A.O. EarthNectar - Add To Cart
C.A.O. KarmaSutraSplash is an intoxicating mixture of perfectly ripened Hawaiian mango nectar and the soothing, fresh sweetness of chocolate mint ice cream. Subtle hints of orange, green apple, anise, and cookie dough are also added to provide depth and mystery. This stunning combination is partnered with Grade One Cameroon wrapper and mild Dominican fillers.
C.A.O. KarmaSutraSplash - Add To Cart
CLICK HERE FOR ALL CIGAR BRANDS BY THE BOX Add To Cart
---
CARIBBEAN CIGARS
The Famous Rum Runner, West Indies Vanilla, and Island Amaretto are hand-made cigars using long-filler, premium tobacco cultivated in the most fertile regions in the world. Made in Indonesia. Try them and you will agree that they are a remarkable experience.
Pirate/Grand Carmelita/Grand Bellisima size 7" x 42 Ring. Offered at $3.25
Wench/Carmelita/Bellisima size 4-1/2"x36 Ring. Offered at $2.75
Sealed in cellophane to preserve freshness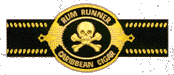 Rum Runner Pirate Offered at $3.25 - Add To Cart
West Indies Vanilla Grand Carmela Offered at $3.25 - Add To Cart