Finck's Puritanos
Nothing Short of Phenomenal!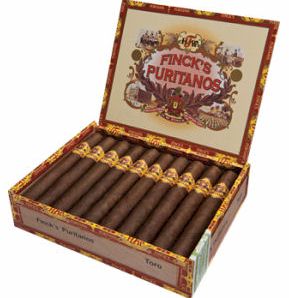 Just about every super-successful new brand released in the last
few years has come from Nicaragua. Of all the great tobacco growing regions, we think Nicaragua may produce the best tobacco grown anywhere in the world - including Cuba! The climate and soil set the ideal conditions to produce flavorful tobaccos, and the Nicaraguan farmers have unmatched skill in growing and curing a wide variety of wrappers, binders and fillers. This tobacco in the hands of a manufacturer like Omar Ortez, a guy who has tremendous ability and who takes pride in his work, results in unbeatable cigars, regardless of price. Finck's Puritanos is made with a combination of tobaccos that is unrivaled by cigars costing 3-4 times what we charge. The wrapper is a beautiful Cafe Habano, with a sheen that comes from its rich oils. The binder is also Habano seed, a hearty leaf loaded with earthy flavors. The filler is a savory blend of Nicaraguan Viso, Nicaraguan Ligero and Dominican Ligero - a combination of strength and flavor that blends perfectly with the Habano wrapper. The taste is nothing short of phenomenal - rich, complex, and most importantly super-enjoyable! Released in August of 2010, Finck's Puritanos has become one of the fastest growing brands.
| | |
| --- | --- |
| Finck's Puritanos Belicoso 6-1/8" x 52 Ring | Box of 20 Offered at $69.95 - Add To Cart |
| Finck's Puritanos Belicoso 6-1/8" x 52 Ring | Pack of Five(5) Offered at $19.95 - Add To Cart |
---
Select flavored sticks (singles) by brand here.

---
Select Boxed Flavored Cigars Arranged Alphabetically by Brand Here...
Boxed Cigars
---
Small Cigars Small/Little/Cigarillos/Mini Cigars Section... over 90 Brands! Many in Tins.
---

Ricardo's Men's Shop: For Men's personal grooming needs.
---
RICARDO'S CAF… - A special section of Ricardo's devoted to coffee and the enjoyment of life's simple pleasures.
---
---
Privacy Policy - and Opportunity to Join our Mailing List for Special Offers