Our FLAVORED Cigars brands: Acid, Al Capone, Alamo Sweet, Alma Sweets, Alternativos, Ambrosia, Amish, Arango Sportsman, Avanti, Backwoods, Bering, BlackStone(Swisher), Blue Agave, Candle Light, C.A.O., Captain Black, Cojimar, Courvoisier, Cuban Delights, Dannemann, Djarum, Don Guillermo, Don Pedro, Dutch Masters, Game, Garcia y Vega,, Hav-A-Tampa, Havana Honeys, Havana Sweets, Heaven, Honey Delights, HulaGirl, Isla del Sol, Island Amaretto, Island Collection, Island Delights, John Hay, John T's, Lars Tetens, LadyPilar, Maker's Mark, Marsh Wheeling, Miami Suites, Middleton's, Miflin's Choice, MoonshineCrooks, Mursuli Sweets, Oliveros, Optimo, Outlaws, Parodi, Phillies, Pipers, Prince Albert's, Ramrod, Ricardo's Pleasures, Royal Hawaiian, Rum & Honey, Rum Runner, Smokey Mountain, South Beach, St. Croix, Supre Sweet, Swisher Sweets, Tabak Especial, Tatiana, Villiger, Volcano, West Indies, White Owl, Wise Guys, Wolf Bros. Rum Crooks
Rum & Honey
A tasty combination of flavor and price!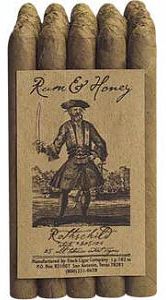 Please Note: This Brand has been Discontinued.
This old-time Cuban style of cigar making is gaining in popularity every day. Just the right amount of sweetener and rum flavoring is added to the all natural tobacco blend to give these cigars a smooth, enjoyable taste without making them taste like a piece of candy. You'll still get the full taste you expect from a great cigar, but the special flavorings make Rum & Honey just that much more enjoyable. Try these economically priced cigars, we guarantee you'll love them! Wrapper: Indonesia. Binder: Connecticut. Cut Filler: Brazil/Connecticut/Nicaragua.
Rum & Honey Corona 5-5/8" x 43 ring. 5-Pack Offered at 7.95 - Add To Cart
Rum & Honey Corona 5-5/8" x 43 ring. Bundle of 25. Offered at 35.95 - Add To Cart
---
Select sticks (singles) by brand here or use column on left.

---
Select Boxed Flavored Cigars Arranged Alphabetically by Brand Here...
Boxed Cigars
---
Small Cigars Small/Little/Cigarillos/Mini Cigars Section... over 90 Brands! Many in Tins.
---

Ricardo's Men's Shop: For Men's personal grooming needs.
---
RICARDO'S CAFÉ - A special section of Ricardo's devoted to coffee and the enjoyment of life's simple pleasures.
---
---
Privacy Policy - and Opportunity to Join our Mailing List for Special Offers