Our FLAVORED Cigars brands: Acid, Al Capone, Alamo Sweet, Alma Sweets, Ambrosia, Amish, Arango Sportsman, Avanti, Backwoods, Bering, BlackStone(Swisher), Blue Agave, C.A.O., Captain Black, Cojimar, Courvoisier, Cuban Delights, Cuban Honeys, Dannemann, Don Guillermo, Dutch Masters, Game, Garcia y Vega,, Hav-A-Tampa, Havana Honeys, Havana Sweets, Heaven, Honey Delights, HulaGirl, Isla del Sol, Island Amaretto, Island Collection, Island Delights, John Hay, John T's, LadyPilar, Maker's Mark, Marsh Wheeling, Miami Suites, Middleton's, Miflin's Choice, Oliveros, Optimo, Outlaws, Parodi, Phillies, Prince Albert's, Ramrod, Ricardo's Pleasures, Royal Hawaiian, Rum Runner, South Beach, Supre Sweet, Swisher Sweets, Tabak Especial, Tatiana, Texas Sweets, Villiger, Volcano, West Indies, White Owl, White Lightning Crooks,
Pacific Twyst Cigars
A spectacular flavored cigar smoking experience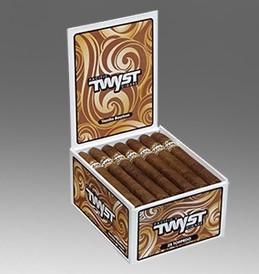 Pacific Twyst Cigars - an exciting new approach to the flavored cigar. Each Pacific Twyst Cigar infuses a popular base flavor, balanced with a complementary essence. The resulting flavor combinations are bright, distinct, and exceptional. Pacific Twyst is a spectacular flavored cigar smoking experience that appeals to both men and women alike.
Pacific Twyst Vanilla Bourbon Torpedo 5" x 38 ring. Offered at $3.75 - Add To Cart

Pacific Twyst Vanilla Bourbon Torpedo 5" x 38 ring. Box of 25 cigars Offered at $89 - Add To Cart
---
Select sticks (singles) by brand here or use column on left.
---
Select Boxed Flavored Cigars Arranged Alphabetically by Brand Here...
Boxed Cigars
---
Small Cigars Small/Little/Cigarillos/Mini Cigars Section... over 90 Brands! Many in Tins.
---

Ricardo's Men's Shop: For Men's personal grooming needs.
---
RICARDO'S CAFÉ - A special section of Ricardo's devoted to coffee and the enjoyment of life's simple pleasures.
---
---
Privacy Policy - and Opportunity to Join our Mailing List for Special Offers