Authentic Amish Handmade Quillows
A combination quilt and pillow.
Quillows help keep you warm... looks great when not in use.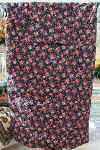 Quillows unfold to 60" x 42"
Click on picture to view enlarged. Use back button to return here.
A quillow is a self-contained combination of a pillow and quilt. When folded into its sewn-in pouch the quillow is a decorative and useful pillow that measures 18" x 18". When unfolded the quillow is a quilt that measures 60" x 42" providing comfort and warmth. Only $59!
See more Quillows! Click here to go to Quillows Page 2
Please note: Please allow 5 days before shipping.
Dog with Pups

Front


Click on picture to view enlarged. Use back button to return here.


Open dimensions = 60" x 42"
18" square when folded to pillow.

Back


Click on picture to view enlarged. Use back button to return here.




Quillow Dog with Pups

- Add To Cart

Folded Star Quillow Patriotic #6



Front


Click on picture to view enlarged. Use back button to return here.


Open dimensions = 60" x 42"
18" square when folded to pillow.

Back


Click on picture to view enlarged. Use back button to return here.




Folded Star Quillow Patriotic #6

- Add To Cart
Quillow Chickens and Sunflowers





Click on picture to view enlarged. Use back button to return here.


Open dimensions = 60" x 42"
18" square when folded to pillow.



Click on picture to view enlarged. Use back button to return here.




Quillow Chickens and Sunflowers

- Add To Cart

Quillow Mallards in the Marsh





Click on picture to view enlarged. Use back button to return here.


Open dimensions = 60" x 42"
18" square when folded to pillow.



Click on picture to view enlarged. Use back button to return here.




Quillow Mallards in the Marsh

- Add To Cart
Quillow Folded Star with Quails





Click on picture to view enlarged. Use back button to return here.


Open dimensions = 60" x 42"
18" square when folded to pillow.



Click on picture to view enlarged. Use back button to return here.




Quillow Folded Star with Quails

- Add To Cart
Quillow Wolf in Winter

Click on picture to view enlarged. Use back button to return here.
Open dimensions = 60" x 42"
18" square when folded to pillow.



Click on picture to view enlarged. Use back button to return here.




Quillow Wolf in Winter

- Add To Cart

---