RICARDO'S FLAVORED SMOKES
Esctacy Herbal Cigarettes


Electronic C

igarette

Flavored Cigars

Ricardo's Flavored Cigars Shop
www.flavoredcigars.com

ecstacy

Herbal Cigarettes
100% Nicotine Free
100% Tobacco Free



Ecstacy herbal smokes are tobacco- and nicotine-free. Ecstacy herbal cigarettes
are made strictly from herbal ingredients including damiana, wild lettuce, catnip, passion flower, leaf of lotus, corn silk, licorice root, and mint. Ecstacy also lists "love and light" among the cigarette's ingredients. Ecstacy Herbal Cigarettes contain a unique blend of all-natural herbs that are 100% tobacco and nicotine free. Their mixture of soothing herbal blends is a terrific substitute for tobacco and great for anyone looking to quit smoking. We currently offer five unique blends to choose from – Originals, Whites, Reds, Menthols and Cannabis-Free. These herbal smokes provide a healthier alternative without the addictive properties of nicotine that are associated with traditional tobacco cigarettes. Ecstacy filtered smokes are available in 20-count hard packs. Offered at $4.89/pack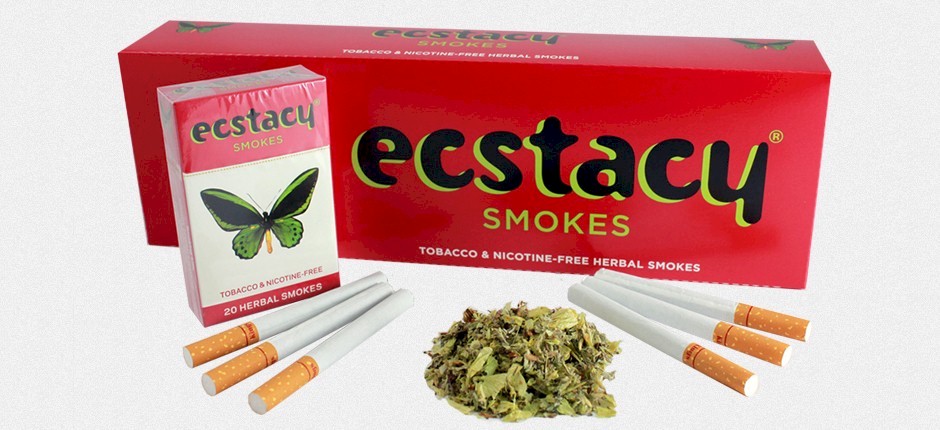 ecstacy Red Full-Flavor - The Ecstacy® Reds are a full flavored herbal smoke which caters to those looking for a more traditional tobacco-like flavor and scent. Ecstacy® RED cigarettes are an excellent choice for those looking for a herbal smoke without the addictive properties of nicotine associated with traditional tobacco cigarettes. The Ecstacy Red herbal cigarettes are completely nicotine free and tobacco-free yet taste like the real thing. With Ecstacy® Red herbal cigarettes you don't have to sacrifice that relaxing cigarette feeling.Ingredients: Pure Leaf of Lotus, Corn Silk, Licorice Root and may also contain Natural flavors and Plant essences. ecstacy Red $4.89/pack - Add To Cart
---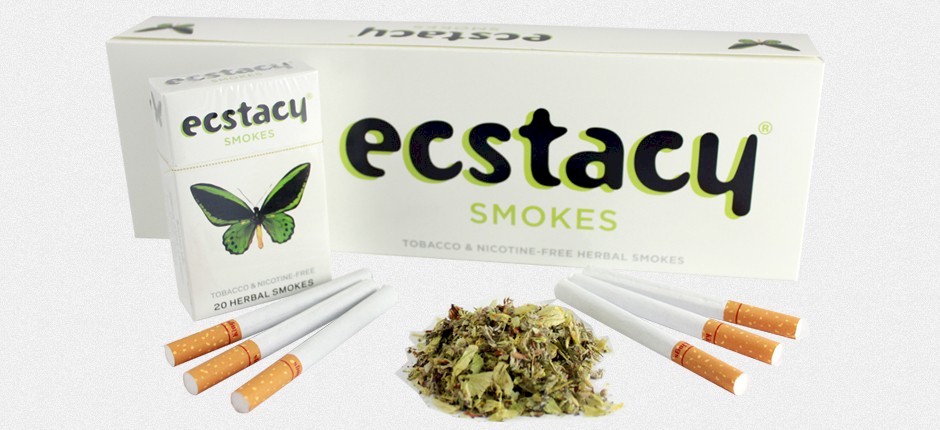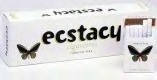 ecstacy White - Ecstacy® White cigarettes are 100% all natural herbal cigarettes. The unique blend of herbs found in Ecstacy® White cigarettes, provide the smoker with a lighter, more traditional tobacco-like aroma and taste. We left out the tobacco, nicotine, and harmful chemicals in order to produce a natural cigarette. The Ecstacy® White herbal cigarettes offer a gentle, smooth smoke without the nicotine or tobacco. The Ecstacy® White tobacco free cigarettes are an excellent choice for those seeking a pure herbal smoke experience. The Ecstacy® White cigarettes are natural relaxing cigarettes with tobacco-like flavor and aroma. Ingredients: Pure Leaf of Lotus, Corn Silk, Licorice Root and may also contain Natural flavors and Plant essences. ecstacy White $4.89/pack - Add To Cart
---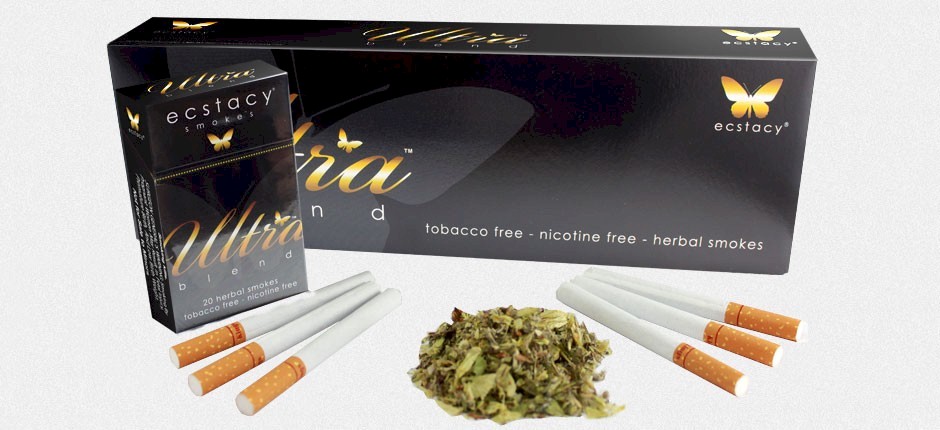 ecstacy Ultras - The Ecstacy® Ultras cigarettes are popular nicotine-free and tobacco-free herbal cigarettes. The original flavor Ecstacy® nicotine free herbal cigarettes are made using a unique blend of exotic herbs to produce a smooth and relaxing smoke. The Ecstacy® Original tobacco free cigarettes are 100% natural and have a pleasantly herbal scent and taste. Ingredients: Damiana, Wild Lettuce, Catnip, Passion Flower, Mint. ecstacy Ultras $4.89/pack - Add To Cart
---

ecstacy Menthol - The Ecstacy® Menthol, manufactured with the same herbal blend as the Ecstacy Reds and Whites, have just a touch of menthol added. The Ecstacy® brand cigarettes are completely nicotine and tobacco free cigarettes. Herbal smoking is a great alternative to premium tobacco cigarettes and with these Ecstacy® nicotine free menthol cigarettes you can now enjoy menthol flavor with a tobacco-like aroma. Like all other Ecstacy® brand cigarettes, these are legal herbal smokes. There is absolutely no nicotine or tobacco - guaranteed. Enjoy menthol flavor with a tobacco-like aroma. Ingredients: Pure Leaf of Lotus, Corn Silk, Licorice Root, Menthol, and may also contain Natural flavors and Plant essences. ecstacy Menthol $4.89/pack - Add To Cart
---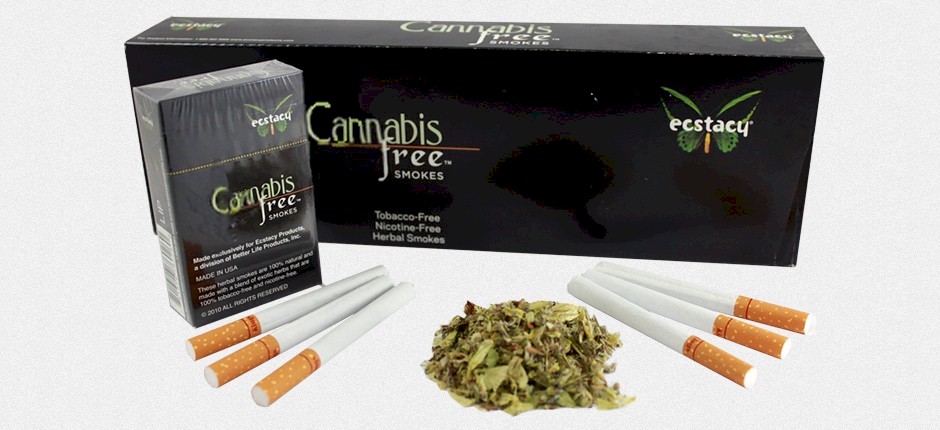 ecstacy Cannabis free - Cannabis-Free Ecstacy® brand cigarettes are the most popular herbal cigarettes available on the market. These cannabis free cigarettes are both nicotine-free and tobacco-free and made from a soothing blend of exotic herbs that are known for their relaxing properties. Ingredients: Damiana, Wild Lettuce, Catnip, Passion Flower, Skull Cap, Mint, and Natural Flavors. ecstacy Cannabis free $4.89/pack - Add To Cart
---
Ecstacy 5-Pack Sampler

Ecstacy 5-Pack Sampler: One each White, Red, Ultra, Menthol, and Cannabis Free.



Ecstacy 5-Pack Sampler $24 - Add To Cart
---
Traditional Herbal Ingredients
Red Clover has been a valuable herbal remedy for centuries. Dating back to the 19th Century, this perennial plant has been cultivated and utilized for its soothing properties, particularly for treating respiratory ailments such as flu, cold, lymphatic and infection symptoms. Often administered by steeping into a tea, the red clover leaves contain detoxification agents, leading to its classification as a blood cleanser and contraindicator for cancers. The fragrant scent and respiratory benefits of the active ingredients in Red Clover make it an ideal ingredient in Ecstacy's fine herbal cigarettes.

Mullein refers to the leaves of the Verbascum Thapsus, which is often promoted in alternative medicine. Mullein carries a yellow hue and has a long history as an ingredient in herbal remedies. Like Red Clover, Mullein has been traditionally used as a tea for its anti-inflammatory properties related to the respiratory and gastrointestinal tracts. There are many species of mullein with a wide range of variation in stem structures, flower shape, and seed size. We use mullein in Ecstacy Cigarettes because it burns easily without releasing a large quantity of harmful toxins, making it an ideal substitute for traditional smoking tobacco.

Damiana has been prized for its relaxing and aphrodisiac qualities by the native peoples of Central and South America for centuries, and was later adopted by Spanish missionaries after observing that Mexican Indians prepared and ingested a Damiana tea mixed with sugar. The preparation was reported to stimulate the libido. In more recent studies involving animals, Damiana has been showed to increase sexual activity in mice of both sexes. Certain studies have also identified Damiana as being an effective axiolytic, with indications that it functions as an aromatase inhibitor, increasing production of estrogen, which would explain why it yields such relaxing results. Ecstacy Cigarettes use Damiana for its anxiety-reducing properties and its tangy yet unobtrusive aroma.

Mugwort is an aromatic plant from the genus Artemisia that has been cultivated since the Middle Ages for its flavoring properties. It has been traced back through botanical journals and cultural archives as an active ingredient in beers, mead and other intoxicating preparations. In fact, certain sources claim that the name is derived from the old Norse word muggi which means "marsh" and the German wuertz, meaning "root." If picked between July and September, mugwort buds and leaves are ripe and flavorful enough to use as a seasoning agent when curing and cooking fish and meat. Ecstacy Cigarettes feature Mugwort for its distinctly pleasing flavor and its reputedly therapeutic benefits which helps replace the nicotine "buzz" for cigarette addicts.
SORRY: Ecstacy Herbal cigarettes may not be ordered if you live in or ship to New York
---
Herbal Cigarettes are dangerous to your health.
They produce tar and carbon monoxide.
| | |
| --- | --- |
| SURGEON GENERAL'S WARNING: Smoking Causes Lung Cancer, Heart Disease, Emphysema, and May Complicate Pregnancy. | SURGEON GENERAL'S WARNING: Quitting Smoking Now Greatly Reduces Serious Risks to Your Health. |
| SURGEON GENERAL'S WARNING: Smoking by Pregnant Women May Result in Fetal Injury, Premature Birth, and Low Birth Weight. | SURGEON GENERAL'S WARNING: Cigarette Smoke Contains Carbon Monoxide. |
WE SHIP ONLY TO U.S.A. ADDRESSES AND APO/FPO.
ORDERS IN HAWAII, ALASKA, APO/FPO ADDRESSES ARE ACCEPTABLE. However,
THE SHIPPING COST WILL NOT CALCULATE CORRECTLY... WE WILL CONTACT YOU BY E-MAIL OR PHONE WITH SHIPPING CHARGES AND YOUR PERMISSION TO CHARGE YOUR CREDIT CARD THE ADDITIONAL COST OF SHIPPING.
CONVENIENT SHOPPING
YOU MUST BE AT LEAST 18 YEARS OF AGE (or Legal age for your state) TO PURCHASE CIGARS OR CIGARETTES AT RICARDO'S!
WE SHIP TO U.S.A. AND APO/FPO ADDRESSES ONLY.
Affordably Priced! Shipped Fast and Fresh... mostly via USPS Priority Mail.


Contact us: shopkeeper@ricardoscigar.com
Tel: 484-722-8259
Ricardo's Cigar Shop
P.O. Box 115
Lyndell, Pa. 19354

Our Flavored Smokes are incredible... Offered at an affordable price!