RICARDO'S FLAVORED SMOKES
American Indian Flavored Herbal Cigarettes

American Indian Sacred Herbal Smokes

100% Nicotine Free 100% Tobacco Free
Herbal smokes
(see below for restricted sales states)
Sorry: American Indian Herbal Smokes may not be ordered if you ship to New York
American Indian herbal cigarettes are the highest quality tobacco-free and nicotine-free cigarettes in the world. Made from an ancient, sacred and unique blend of herbal ingredients, American Indian herbal cigarettes are both tobacco and nicotine free. The American Indian herbal cigarette looks just like a tobacco cigarette but does not have any of the tobacco, nicotine or toxic additives found in conventional tobacco cigarettes. This ancient blend never contains artificial additives, harmful reconstituted tobacco, or toxic flavors unlike those found in other brands. These herbal cigarettes are comprised only of sacred herbs that produce a full and relaxing flavor.

100% ADDITIVE-FREE NATURAL HERBAL CIGARETTES

Whether you are looking for a rich, full-bodied taste or something more mellow, only Natural American Indian Cigarettes contain a unique blend made exclusively from premium herbs and are guaranteed to be 100% additive-free, 100% nicotine-free and 100% tobacco-free. 100% Herbal Ingredients: A sacred blend of camelia sinensis, honeysuckle, chrysanthemum, mulberry leaf, purple perllia, lotus leaf, fructus and momordicae. See FAQ's below.
Offered at $6.95/pack
American Indian Sacred Smokes (20 natural smokes/pack) - Add To Cart
Sorry: American Indian Sacred Smokes may not be ordered if you ship to New York.

If you place an order shipping to an address in any of the above mentioned states that portion of your order will incur a three percent (3%) Credit Card Transaction fee and those items will be removed from your order.
---
Herbal Cigarettes are dangerous to your health.
They produce tar and carbon monoxide.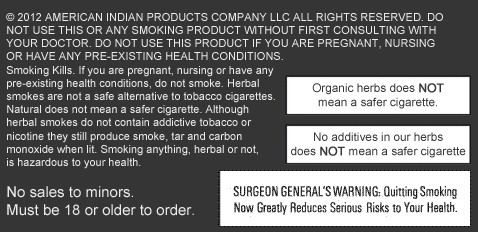 Frequently Asked Questions:
1. What are herbal smokes?
Herbal smokes are a natural, non-tobacco alternative to cigarettes.
2. Do herbal smokes contain tobacco or nicotine?
No. Herbal smokes are tobacco-free and nicotine-free.
3. Do herbal smokes contain tar?
Yes. Although herbal smokes are free from nicotine, you still get some tar
from smoking them.
4. Do herbal smokes contain toxic and artificial additives and flavorings
like those found in tobacco?
No. Herbal smokes are 100% natural and do not contain any of the toxic
additives found in many commercial cigarette brands.
5. Are herbal smokes addictive?
Unlike tobacco, since herbal smokes do not contain nicotine, they are
non-addictive for most people. In fact, they can actually support individuals
looking to quit smoking.
6. Are there any side effects?
Herbal smokes have no known side effects; however, smoking anything will
produce smoke, tar and carbon monoxide, which is bad for your health.
7. How can herbal smokes help me quit?
Over time your brain associates smoking with pleasure. This makes it even
harder to quit. All natural American Indian Herbal Smokes are tobacco-free
and nicotine-free.
The specially formulated natural flavors in American Indian temporarily alter
your taste buds so tobacco tastes…well, not so great...
Next time you smoke a "regular" cigarette it won't taste the same. Your brain
will most likely associate the "bad" taste to the regular cigarette and viola....
You are one step closer to quitting. Herbal smokes can become a valuable
part of your smoking cessation program.
8. Why are they called American Indian Smokes?
This product was first produced at an American Indian reservation. Although
American Indian Herbal Smokes are no longer produced on the reservation,
they are made using traditional plants and utilize the sustainable methods
that honor our mother earth. A portion of the proceeds also go towards
supporting American Indian charities as well as helping to support and
document indigenous cultures, preserving their wisdom for generations to
come.
| | |
| --- | --- |
| SURGEON GENERAL'S WARNING: Smoking Causes Lung Cancer, Heart Disease, Emphysema, and May Complicate Pregnancy. | SURGEON GENERAL'S WARNING: Quitting Smoking Now Greatly Reduces Serious Risks to Your Health. |
| SURGEON GENERAL'S WARNING: Smoking by Pregnant Women May Result in Fetal Injury, Premature Birth, and Low Birth Weight. | SURGEON GENERAL'S WARNING: Cigarette Smoke Contains Carbon Monoxide. |
WE SHIP ONLY TO U.S.A. ADDRESSES AND APO/FPO. IF YOU PLACE AN ORDER FOR SHIPPING TO AN ADDRESS OUTSIDE THE USA (not including APO/FPO) YOU WILL INCUR A THREE PERCENT (3%) CREDIT CARD TRANSACTION FEE AND THE REMAINING AMOUNT WILL BE RETURNED TO YOUR CREDIT CARD ACCOUNT.
ORDERS IN HAWAII, ALASKA, APO/FPO ADDRESSES ARE ACCEPTABLE. THE SHIPPING COST WILL NOT CALCULATE CORRECTLY... WE WILL CONTACT YOU BY E-MAIL OR PHONE WITH SHIPPING CHARGES AND YOUR PERMISSION TO CHARGE YOUR CREDIT CARD THE ADDITIONAL COST OF SHIPPING.

YOU MUST BE AT LEAST 18 YEARS OF AGE TO PURCHASE CIGARS OR Herbal Smokes at RICARDO'S!
WE SHIP TO U.S.A. AND APO/FPO ADDRESSES ONLY.
Affordably Priced! Shipped Fast and Fresh... mostly via USPS Priority Mail.


Contact us: shopkeeper@ricardoscigar.com
Tel: 484-722-8259
Ricardo's Cigar Shop
P.O. Box 115
Lyndell, Pa. 19354

Our Flavored Smokes are incredible... and offered at an affordable price!