Puntini Menta Fresca

Puntini Menta Fresca flavored jujubes are distinguished by their unique texture and delightfully refreshing flavor. Premium mint oils enhanced with a touch of vanilla make Puntini Menta Fresca a thoroughly enjoyable taste sensation.
Puntini Menta Fresca $11.95/9.5 oz. Gold Tower. - Add To Cart

Puntini Menta Fresca $9.95/8 oz. Bag - Add To Cart
Puntini Menta Fresca $15.95/10.1 oz. Round Tin. - Add To Cart
Puntini Menta Fresca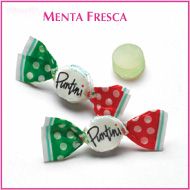 INGREDIENTS: Sugar, Corn Syrup, Modified Food Starch (From corn and potatoes), Gum Arabic, Sorbitol (a trivial amount to retain moisture only and not as a sugar substitute), Mint and other Natural and Artificial Flavors and Colors (Yellow5, Blue2)
Serving size = 16 pieces(15g)
40 Calories
Total Fat 0%
Sodium 0%
Total Carb 4%
Product Attributes: This candy is free of gluten, fat, sodium, and cholesterol. It contains no artificial FD&C colors or preservatives and is manufactured without genetically modified ingredients.

(Click on pictures for your favorite flavor)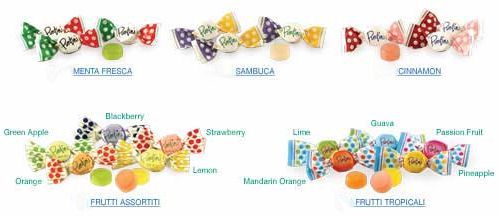 Frutti Assortiti Cinnamon Frutti Tropicali Sambuca Menta Fresca