Our Featured Item:
Glitterati Cocoamenta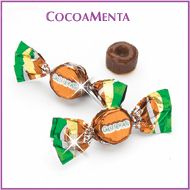 Imported Candies from Italy
Glitterati in Gold Tower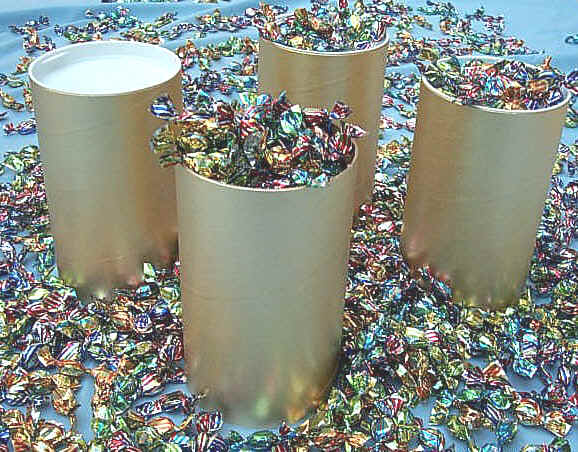 Approximately 9.5 oz - approx. 262 pieces - in a Gold Tower (food-quality cardboard tube ).
Glitterati in Gold Round Tin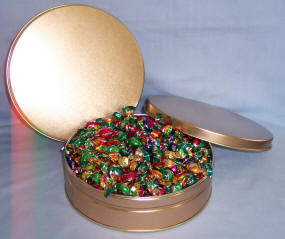 Click on image to enlarge. Use backbutton to return here.
Approximately 10.1 oz - 275 pieces - in a 6.5"dia. x 2" high tin.
Half-pound sealed plastic Bag - approx. 220 pieces.
Glitterati Cocoamenta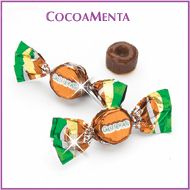 Plenty of rich chocolate with a perfectly balanced mint accent makes this an outstanding example of a classic flavor combination.

GLITTERATI CocoaMenta $10.95/9.5 oz. Gold Tower. - Add To Cart

GLITTERATI CocoaMenta $8.95/8 oz. Bag - Add To Cart
GLITTERATI CocoaMenta $13.95/10.1 oz. Round Tin. - Add To Cart

INGREDIENTS: Sugar, Corn Syrup, Whole Milk Powder*, Alkalized Cocoa Powder, Butter*, Natural and Artificial flavors. *Adds a trivial amount of fat and Cholesterol.
Serving size = 15 pieces.
60 Calories
Total Fat 0%
Sodium 0%
Total Carb 5%
PRODUCT ATTRIBUTES: THIS CANDY IS FREE OF GLUTEN, FAT, SODIUM AND CHOLESTEROL. IT CONTAINS NO PRESERVATIVES AND IS MANUFACTURED WITHOUT GENETICALLY MODIFIED INGREDIENTS.