New Hope Mills Pancake Mixes

New Hope Mills is a superb quality mix made from first grade unbleached non-enriched flour

of the same fine quality famous since 1823. Each mix combines wheat flour, corn flour, and rye flour with other ingredients to produce excellent tasting pancakes and waffles. The milk's already in the mix. You add water and an egg (optional) and bake on a hot griddle. Available in Buttermilk,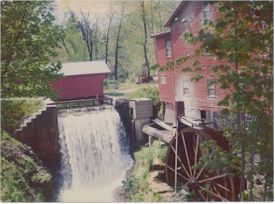 Blueberry, and Apple Cinnamon. Great for making pancakes, waffles, and cookies! Each comes in a plastic pouch placed inside a collectible tied cloth bag.
Directions for making pancakes: Mix with cold water. Stir to the proper consistency, add egg if you wish and bake at once on a hot griddle.
Offered at $4.89/1-lb bag.
NEW HOPE MILLS Buttermilk Mix. Our best selling mix with Wheat Flour, Corn Flour, Rye Flour, Dextrose, Powdered Buttermilk, Calcium Phosphate, Bicarbonate of Soda, and Salt. - Add To Cart
NEW HOPE MILLS Blueberry Mix. Unbleached wheat Flour, Corn Flour, Rye Flour, Whey Leavening, Powdered Buttermilk, Salt, Freeze-dried Blueberries. - Add To Cart
NEW HOPE MILLS Apple-Cinnamon Mix. A blend of Wheat, Rye, and Corn Flours which also contains cinnamon and apple fiber. - Add To Cart