Shoofly Pie is a traditional PA Dutch desert. When the early German settlers came to North America they brought with them non-perishable goods on ships that would survive the long voyage to America. Staples such as brown sugar, flour, molasses, shortening, salt, and spices were used to create a three-layer pie with a gooey bottom, a cake-like middle, and a crumb topping. Baked and left to cool outside, these pies not only garnered rousing approval from the settlers, but a few flies buzzed around, too, giving this native East Coast dish its name. Perhaps no other single dessert is so identified with Amish Country as is the shoofly pie. Delicious served warm and topped with whipped cream or a side of ice cream! Tastes great with a cup of coffee, too.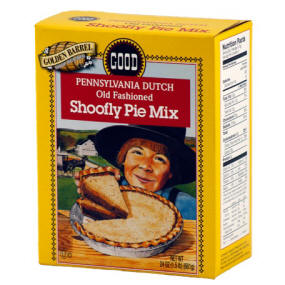 Shoofly Pie Mix - Every thing you need (except the pie crust) to make this classic Pennsylvania Dutch favorite! Follow three simple steps to make
your own Pennsylvania Dutch old fashioned Shoofly Pie.
Shoofly Pie Mix - $6.95 Add To Cart
---
Funnel Cake Mix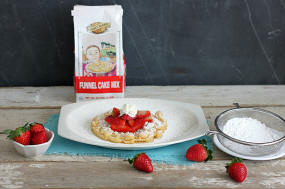 Funnel Cakes or "plow-lines" have been a favorite of Pennsylvania Dutch folks for generations. This authhentic light pastry mix is quick and easy to make - just add water. Funnel cake is a delicious old-fashioned pastry that you can enjoy for breakfast, as a snack, or for dessert. Serve with maple syrup, ice cream, fruit toppings, a tart jelly, or simply sprinkled with powdered sugar or cinnamon. Funnel Cake batter is a great batter for dipping fruits, veggies and hot dogs: add your choice of seasonings, and fry. Cooks in one minute in vegetable oil or shortening. Two lb. package makes about 40 funnel cakes.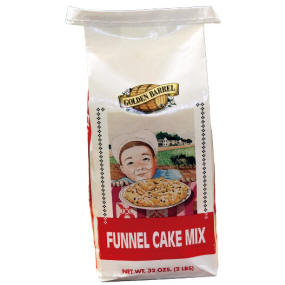 Funnel Cake Mix 2 lb. bag $6.95 - Add To Cart

Directions: Mix well with water (13½ oz. per 1 lb. of mix) to desired consistency. Pour through funnel into hot oil (350° F.). Fry 2 to 3 minutes until golden brown and turn. Sprinkle with powdered sugar.