Our Featured Item:
Glitterati Tropical Fruits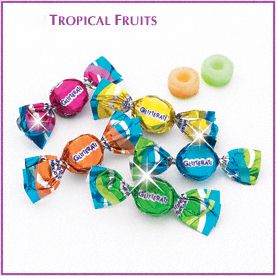 Imported Candies from Italy
Glitterati in Gold Tower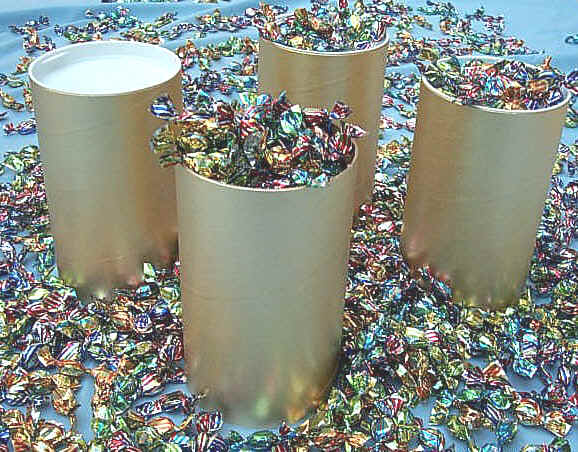 Approximately 9.5 oz - approx. 262 pieces - in a Gold Tower (food-quality cardboard tube ).
Glitterati in Gold Round Tin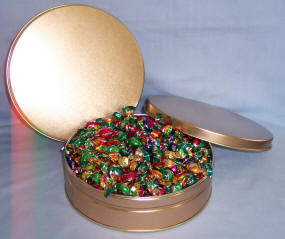 Click on image to enlarge. Use backbutton to return here.
Approximately 10.1 oz - 275 pieces - in a 6.5"dia. x 2" high tin.
Half-pound sealed plastic Bag - approx. 220 pieces.

Glitterati Tropical Fruits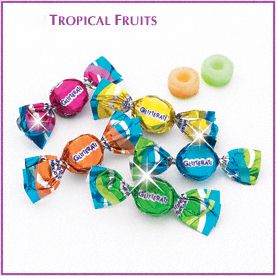 Imported Candies from Italy
Glitterati Tropical Fruits assortment has five exotic tropical fruit flavors including Passion Fruit, Island Melon, Guava, Pineapple, and Mango. No Artificial FD&C Colors.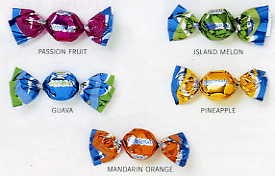 Please note: Mandarin Orange has been replaced by Mango.
Glitterati Tropical Fruits $10.95/9.5 oz. Gold Tower. - Add To Cart

Glitterati Tropical Fruits $8.95/8 oz. in Bag - Add To Cart
Glitterati Tropical Fruits $13.95/6.1 oz. Round Tin. - Add To Cart

INGREDIENTS: Sugar, Glucose Syrup, Natural Fruit Extracts, Citric Acid, Natural and Artificial Flavors, Colored with Elderberry Juice, Spinach Extract, Paprika, Turmeric and Caramel Color.
Serving size = 15 pieces.
60 Calories
Total Fat 0%
Sodium 0%
Total Carb 5%

(Click on pictures for your favorite flavor)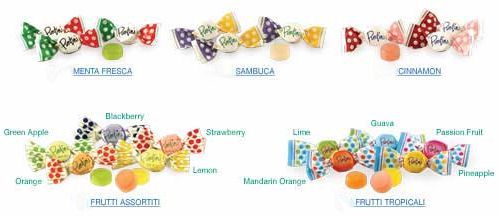 Frutti Assortiti Cinnamon Frutti Tropicali Sambuca Menta Fresca
Puntini Tender Italian Gourmet Jujubes